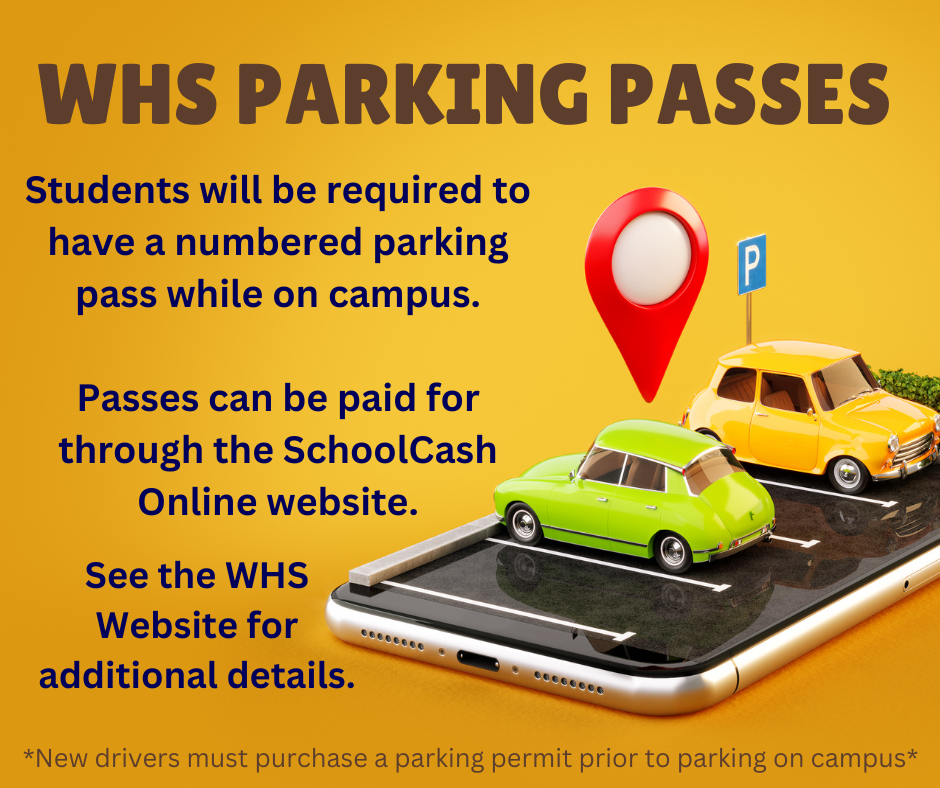 Phone:
Email:
Degrees and Certifications:
Student Parking

WHS Licensed Student Drivers can begin purchasing parking passes
Senior Parking Permits:
Monday, August 21, 2023
Underclassmen permits:
Tuesday,August 22, 2023
Wednesday,August 23, 2023
Students will be required to have a numbered parking pass while on campus.
Students desiring to purchase a permit must:
1. Have a valid NC driver's license.
2. Present a completed and signed copy of the WHS Parking Agreement WHS Parking Agreement
3. Have no student debt to the school.
4. Pay a $50 parking fee ($25 if purchased after 1/02/2024) on the School Cash Online site.
5. Choose a numbered parking spot for the year.
Parking Lot Regulations
-All Beaufort County Code of Conduct rules/regulations apply to the student parking.
-Vehicles must be parked ONLY in assigned numbered space between the white lines.
- Illegally parked cars may be booted or towed at the owner's expense.
-The speed limit on campus is 15 MPH. Excessive speed or unsafe vehicle operation will result in suspension of driving privileges and report to law enforcement.
-Student parking permits cannot be transferred, sold, or shared.
-Students may not go to their cars during the school day without permission from an administrator/front office.
-Students may not leave campus without being checked out by a parent/guardian in the front office (Out of School Suspension & Lose of Parking Privilege)
Consequences
-Any violation of parking lot regulations is subject to disciplinary action.
-Serious infractions will be reported to school SRO or Washington Police Department.
-Failure to abide by WHS regulations or state regulations may result in short term or permanent loss of the privilege to operate a motor vehicle on campus.
-NO refund will be issued for revoked parking permits.
-Washington High School reserves the right to revoke a permit at any time.
-Determination of disciplinary action for any violation will be the responsibility of the school principal, assistant principal, or SRO.